About Primus University of Theology
Quality and Individualized Christian Education
Primus University of Theology Focuses on Quality and Individualized Christian Education.
The University has been modeled after that of the original university systems in Europe at the advent of education; where, Bible teaching was required even for medical and law students. We believe teaching should emphasis the furthering of morality, Christian influence and Theology and prepare graduates to boldly teach sound consistent doctrine.
It is our mandate to make the best contemporary Christian education accessible and affordable to students around the Globe. We offer relevant teaching, specific to the cultural, economic and spiritual needs of our students, to prepare them for their Ministry calling. We also provide recognition of lifelong learning and awarding of earned degrees to gifted and qualified men and women, through our portfolio process known as the MAP-PAC© system.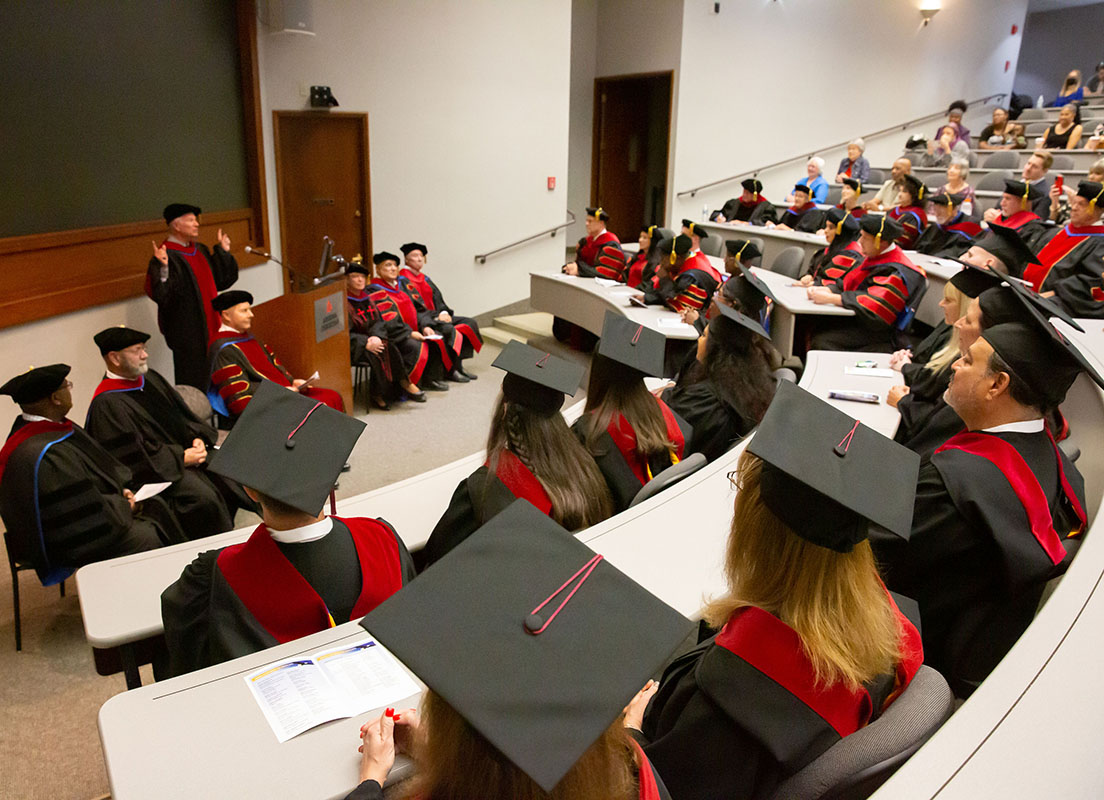 Alumnus Professors
Our Certified Teaching Alliances are predominantly Alumni of Primus University of Theology. Graduates at the Master's and Doctorate level are eligible to become Alumnus Professors. This partnership assures our students will be taught sound biblical truths and pay reasonable fees for their training, books and materials.
Primus University of Theology is designed after the classic university system. A University in the classic sense was an association of teaching disciplines. It is this association with teaching alliances (disciplines) that offers our students the greatest savings on degree program costs and provides the teaching alliances the freedom to teach their own work and the revelations revealed to them through relationship with the Holy Spirit. We believe that, whether you learned on a hillside from Jesus, under a tree with your mentor or in the classroom, the significant thing is that you learned and that you learned the truth. Since teaching has forever been an edict of the church, Primus University of Theology is uniquely positioned to reclaim the educational prerogatives of ecclesiastical authority along with its biblical standards and measures.
Graduate Degrees for Life Experience Ministers
The denominations that have the fewest number of ministers with graduate degrees, are Independent and Pentecostal Ministries, only 17 to 20 percent of non-denominational Pastors hold graduate degrees. However, they are neither ignorant nor unlearned. They are burning the world up for Jesus. Their Ministries are growing faster than the mainline denominations, because they have been studying the Word of God and learning and receiving revelation education from their Heavenly Father.
It is the mission of Primus University of Theology to validate those who can boldly teach sound, consistent doctrine. We realize that God teaches us what we need to know and that the Lord is our teacher. Many qualified men and women in full time ministry do not have the time or the money to complete Graduate School. That is why Primus University of Theology is such a critical part of God's work. To provide, through evaluation of one's lifelong learning and the evidence of God working through one's life and ministry, a way for those gifted and qualified men and women to receive the credentials they deserve through assessment and evaluation of their years in Ministry, self-motivated study, written works and revelation education. It is one's gifting, their faith, their presence, and their presentation of God's call and purpose in their life that speaks to their level of education and validates their "letters" or degree.
In The Words from Our Founder Dr. Richard Drake
1 John 2:27 tells us, But the anointing which ye have received of him abideth in you, and ye need not that any man teach you: but as the same anointing teacheth you of all things, and is truth, and is no lie, and even as it hath taught you, ye shall abide in him.
John 7:14-15 ... Jesus went up into the temple [court] and began to teach. Then the Jews were perplexed. They said, "How did this man become learned [so versed in the Scriptures and theology] without formal training?" Jesus answered them by saying, "My teaching is not My own, but His who sent Me.
This was also said of the apostles; when the Scribes and Pharasees noticed that they were ignorant and unlearned men [they had not been to college]. Acts 4:13 Now when the men of the Sanhedrin (Jewish High Court) saw the confidence and boldness of Peter and John, and grasped the fact that they were uneducated and untrained [not degreed, unlettered,] men, they were astounded, and began to recognize that they had been with Jesus.
This bias or preconceived opinion still exists today. The world has beat us down to the point that we think if we don't have a piece of paper from a regionally accredited school, showing that we stayed in class long enough and paid enough money to get a piece of paper that testifies that we have been taught what the world believes we need to know; we are proud of it. Yet, those people who possess the words of life, who possess the power for eternal life, who have the strength and solid doctrine and truth, often go without any letters or recognition. Primus University of Theology recognizes that the same transforming relationship, knowledge and inward communion with Christ is as possible for us today as it was for the Disciples.
The title Doctor was originally Doctor Ecclesia, which signified a father or a teacher of the church. The doctor ecclesia did not go through a specific course curriculum, they were recognized by the resident wisdom in their heart and mind and the depth of their understanding and espousing and teaching of doctrine, they were 'gifted' and they were recognized by the ecclesiastical authority, which qualified them for their degree; because, in the field or the world of the church, we recognize first of all that God is our teacher. We hear from God because we are called of God and we are taught by God.
1 Corinthians 2:14 states, but the natural, non-spiritual man does not accept or welcome or admit into his heart the gifts and teachings and revelations of the Spirit of God, for they are folly to him; and he is incapable of knowing them because they are spiritually discerned and estimated and appreciated.
One of the things Primus University of Theology hopes to do is to re-establish the association of the term Doctor, with instruction in sound doctrine and that we are used of the Lord to find and certify those men and women that are teaching sound, consistent, doctrine in the earth. Those that know they can raise the shield (the Word of God) to defeat whatever comes against them, those that are one with the Word. By pleasing and placating the world we will never take dominion of the earth. Only with strict adherence to The Word of God can we offend and challenge; which will conflict with the mind of man to the point of conversion.
John 14:25-27 tells us, these things have I spoken unto you, being yet present with you. But the Comforter, which is the Holy Ghost, whom the Father will send in my name, he shall teach you all things, and bring all things to your remembrance, whatsoever I have said unto you. Peace I leave with you, my peace I give unto you: not as the world giveth, give I unto you. Let not your heart be troubled, neither let it be afraid.
Today, man's lack of wisdom says our universities have diversity. So they confuse and confound the world so much, and they think they are smart and they are not.
We are warned in: 2 Timothy 4:3-4 For time shall be, when men will not endure sound doctrine; but after their own lusts shall they heap to themselves teachers, having itching ears, for something pleasing and gratifying, they will gather to themselves one teacher after another chosen to satisfy their own liking and to foster the errors they hold, And will turn aside from hearing the truth and wander off into myths and man-made fictions.
Also: 1 Timothy 6:2-4 tells us, if anyone teaches otherwise and does not assent to the sound and wholesome messages of our Lord Jesus Christ and the teaching which is in agreement with godliness, He is puffed up with pride and stupefied with conceit, woefully ignorant. He has a morbid fondness for controversy and disputes and strife about words, which result in envy and jealousy, quarrels and dissension, abuse and insults and slander, and base suspicions.
Many Bible schools today are turning out young men and women year after year who know the theory of the Spirit-filled life but do not enjoy the experience. These men and women go out into the churches creating a generation of Christians who have never felt the power of the Holy Spirit.
1 Timothy 1:6-7 tells us, 6But certain individuals have missed the mark on this very matter [and] have wandered away into vain arguments and discussions and purposeless talk. 7They are ambitious to be doctors of the Law, but they have no understanding either of the words and terms they use or of the subjects about which they make dogmatic assertions. Thereby, they are undermining the faith of some.
Also in, 2 Timothy 3:3 But know this, that in the last days perilous times will come: 2 For men will be lovers of themselves, lovers of pleasure rather than lovers of God, 5 having a form of godliness but denying its power … from such people turn away… 7 always learning and never able to come to the knowledge of the truth. 8 so do these also resist the truth: men of corrupt minds, disapproved concerning the faith.
Acts 5: 28-29 And the authorities said, "We gave you strict orders not to continue teaching, in the name of this man Jesus, behold now you have filled all of Jerusalem with your teaching and you intend to bring the blood of Jesus upon us." But Peter and the Apostles answered and said, "We must serve God rather than men."
2 Timothy 2:2 "And the things which you have heard from me in the presence of many witnesses, these entrust to faithful men, who will be able to teach others also."
What we are doing at Primus University of Theology, is confirming what our students have learned from their Heavenly Father about His Word and His doctrine, and then we validate what they have learned and the level of it with the degree they receive. In the process we prepare them with those things that we feel, jointly, mutually, the student and the university; feel they need to equip themselves, to properly prepare themselves to present Christ in truth and power to a lost and dying world.
And this we shall do, God willing!