Degree Programs and Distinctions
We offer Ministry degrees at the Bachelor's, Master's and Doctoral levels
Degree programs designed for Christian Ministry
The particular degree title and distinction awarded to the degree candidate will reflect the learning and proficiencies of the candidate in a specific concentrated area of study. Any degree title or distinction must clearly indicate that it is a Christian Ministry or Theology Degree and must not be confused with a liberal arts education. All degree programs are designed to improve the skills and success of those committed to Christian ministry.
At Primus University of Theology, we offer Ministry degrees at the Bachelor's, Master's and Doctoral levels, in a broad range of Christian focuses. All programs have been designed to prepare and equip graduates to transform culture, attitudes, beliefs and customs through the message of our Lord and Savior Jesus Christ.
Listed below are a few degree distinctions that have been awarded. However, your degree distinction could be unique to your gifts, callings and experience.
Marketplace Ministry
Nouthetic Counseling [Christian Counseling]
Administration
Global Missions
Freedom From Oppression and PTSD
Entrepreneurial Development
Oppression Healing and Deliverance
Music, Arts, Entertainment
Divinity [M.Div.]
Teaching and Curriculum Development
Cultural Transformation
Theology [Th.D.]
Ministry Management
Prophecy and Revelation
Pastoral Care
Prayer and Intercession
Organizational Leadership
Marriage and Family Counseling
Business Theology
Holistic Health and Restoration
Bible Studies
Religious and World History
Humanities and Social Science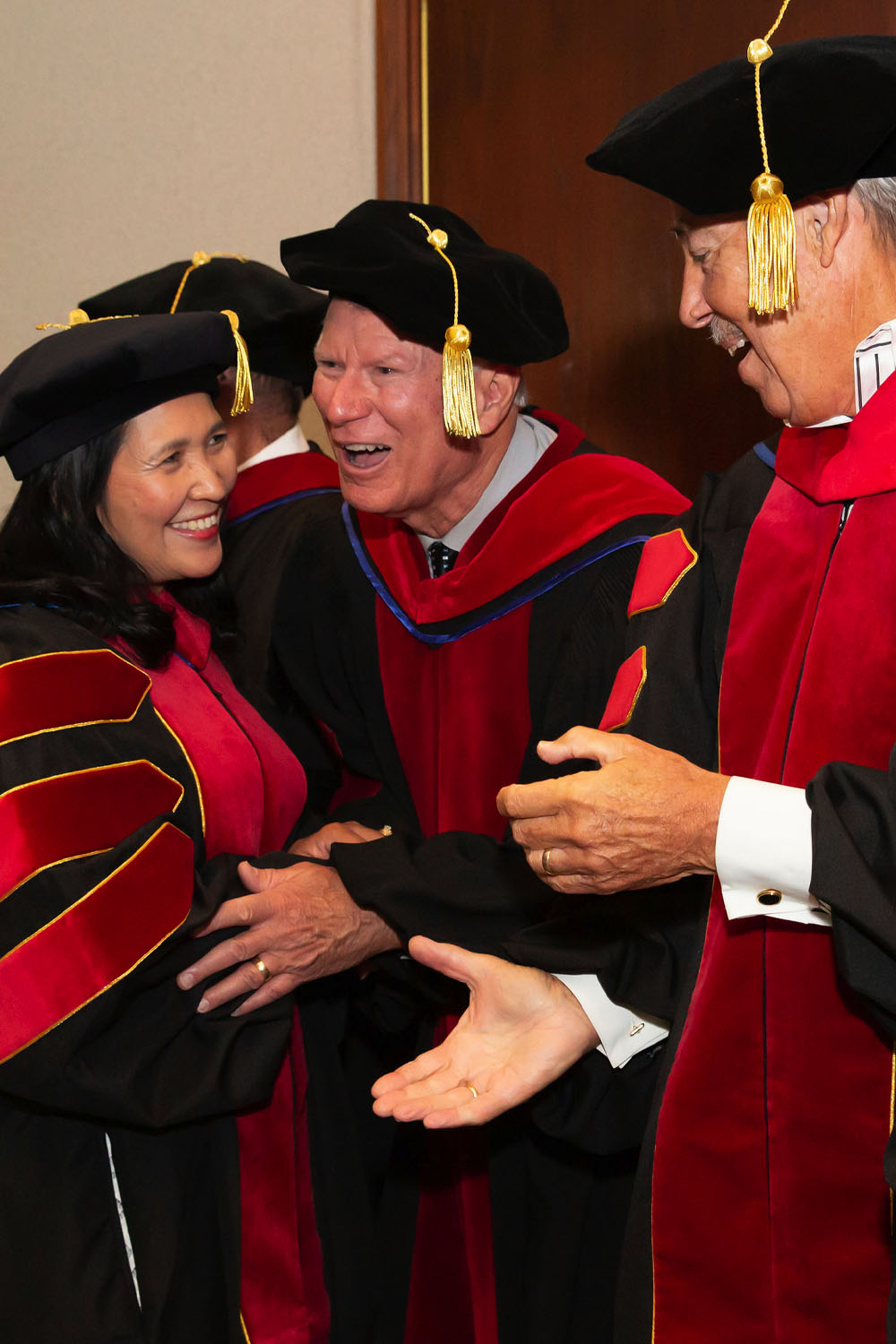 World Class Teaching Ministry Partners
The University is formed through Alliances with world class independent teaching ministries. This collegiality provides our students and graduates with an ever-expending network, and cooperative interaction with likeminded Kingdom Leaders. Our Graduates become our Adjunct Professors. Their books and materials become our curriculum; this allows our students to learn from experts in their field of study, and the authors of the books and materials they will be teaching.
| Alumnus Professors | Ministry | Teaching |
| --- | --- | --- |
| Attorney Sherra Kissee | Ecclesiastical Law | Ecclesiastical Law and Faith |
| Dr. Ted Baehr | MOVIEGUIDE, Faith and Values | Arts, Entertainment and Media |
| Minister Luke Barnett | Dream City Church Phoenix | Church Growth and Leadership |
| Dr. Darrel Billups | National Coalition of Ministries to Men | Ministries to Men |
| Dr. Wellington Boone | Wellington Boone Ministries | Personal Relationship with Christ |
| Rt. Lt. Gen. Dr. Jerry Boykin | Family Research Council | Leadership and History |
| Dr. John Harold Binkley, Jr. | Generational Equity | Entrepreneurship & Ministry to Men |
| Dr. Scott Bitcon | Inner Healing and Deliverance | Freedom from Oppression and PTSD |
| Dr. Randy Clark | Global Awakening Ministries | Healing and Impartation |
| Dr. Ed Cole and Dr. Paul Cole | Christian Men's Network | Ministry to Men |
| Dr. Roy Comstock/Barry Lynch | Christian Mentor's Network | Mentoring Men and Women |
| Dr. Terry Crist | City of Grace Arizona | Ministry Growth and Development |
| Dr. Ed Delph | Church@Community | Church Leadership Development |
| Dr. Randy Bixby | The Cultural Architect | Coaching Approach to Life and Ministry |
| Dr. David Hairabedian | Market Place Ministry | Missions, Healing and Impartation |
| Dr. Ron and Dr. Rod Hembree | Quick Study Bible Discovery TV | Bible Study |
| Dr. Don Henning | Making of a Chaplain | Chaplaincy Training |
| Dr. Leif Hetland | Global Mission Awareness | Transforming Nations |
| Dr. Steve Isaac | Reunion Church | Hermeneutics/Biblical Interpretation |
| Dr. T. D. Jakes | The Potter's House | Purpose and Destiny |
| Dr. Rick Joyner | Morning Star Ministries | Business and Leadership |
| Dr. T. L. Osborn | Osborn Ministries International | Miracles, Signs and Wonders |
| Dr Robert Winters | Preparing the Way International | Prophets & Prophetic Ministry |
| Dr. Jorge and Dr. Anna Parrott | Morning Star Missions | Oversees Missions |
| Dr. Dean Radtke | The Ministry Institute | Ministry Leadership |
| Dr. Milton Weber | Christian Ministry Education | Apologetics/World Religions |
| Drs. Larry and Dr. Carol Snapp | Blended Families Ministry | Marriage Counseling |
| Dr. Hal Sacks | Bridge Builders Ministry | Prayer and Intercession |
| Dr. H. Norman Wright | Dr. H. Norman Wright Ministry | Marriage and Family Counseling |
| Dr. Lance Wallnau | Lance Learning Institute | 7 Mountains of Influence |
| Dr. Ardith Williams | International Bible Institute [IBI©] | Bible Studies |
| Dr. David Yarnes | Morning Star Ministries | Prosperity Matrix |
| Dr. Kevin Zadai | Heavenly Visitation-Warrior Notes | Bringing Heaven to Earth |
Degrees at a fraction of the traditional cost
Our goal is to reclaim educational prerogatives, biblical methods, standards and measures. Courses are predominantly taught using our Alumnus Professors, online classes, and independent study. This process provides students with the greatest amount of savings, so they can earn a degree at a fraction of the traditional cost.
We are committed to responding to the need for lifelong learning opportunities by providing a full range of educational services adapted to the needs of ministers, business and church leaders. To accomplish this goal, the University recognizes transfer credits and awards credit for documented experiential learning, which is defined as college-level learning that takes place outside a college or university setting.
We are looking forward to helping your achieve your educational and degree goals.